American Mountain Guides Association (AMGA) Courses
The American Mountain Guides Association (AMGA) is a 501(c)(3) educational nonprofit that is dedicated to supporting the American mountain guiding and climbing instructor community. As the leading organization of America's most vibrant, inspiring community of climbers and skiers, the AMGA offers you cutting-edge knowledge and hundreds of years of collective experience that you won't get from any other climbing organization. AMGA guides and staff are the experts in the business of being a guide.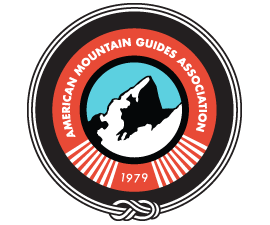 The AMGA Climbing Instructor Program consists of three certification streams: Rock Instructor, Climbing Wall Instructor, and Single Pitch Instructor. The Climbing Instructor Program is intended for individuals who facilitate climbing experiences, instruct climbing skills, and/or monitor climbing activities.
Designed to enable instructors to proficiently facilitate and instruct the sport of rock climbing.
The programs are for current, active climbers that have a real desire to teach climbing skills to novices.
The target audiences of the Climbing Wall and Single Pitch Instructor include, but are not limited to, college outdoor recreation leaders, experiential education program instructors, wilderness therapy staff, camp directors, youth leaders, climbing school instructors, climbing gym staff, and recreational climbers looking to improve upon their technical climbing skills.